Rev. Fr. Philip Jacob has dedicated his life to serving the church and its community for the past five decades. His unwavering commitment to spreading the message of love, compassion, and forgiveness has touched the lives of countless individuals, both within and outside the church. It is only fitting that we celebrate this remarkable milestone in his priesthood and express our gratitude for all that he has done for us.
As a person who embodies the quality of being a servant leader, a key component of the celebration will include multiple charitable initiatives across metro Detroit and in India. We are planning to publish a souvenir book in honor of this celebration and all proceeds from the book will be used to fund aforementioned charitable causes. 
The year long celebration will culminate on September 30th, 2023, in the presence of H.H. Moran Mor Baselios Marthoma Mathews III, the Catholicos of the East and Malankara Metropolitan and His Grace Dr. Thomas Mar Ivanios, Metropolitan of Diocese of South-West America.
Listed below is the details of the events and link to RSVP your attendance.
Event Details
Friday – September 29, 2023
6:00 PM – Reception H.G. Dr. Thomas Mor Ivanios, Metropolitan of Diocese of South-West America
6:30 PM – Evening Prayer
Saturday – September 30, 2023
7:30 AM – Reception of H.H Moran Mor Baselios Marthoma Mathews III, the Catholicos of the East and Malankara Metropolitan to St. Thomas Orthodox Church of India and
7:45 AM – Morning prayer, followed by Holy Qurabana by Rev. Fr. Philip Jacob
11:30 AM – Luncheon
2:00 PM – Public Event for felicitations
Sunday – October 1, 2023
8:00 AM – Holy Qurbana
12:00 PM – Luncheon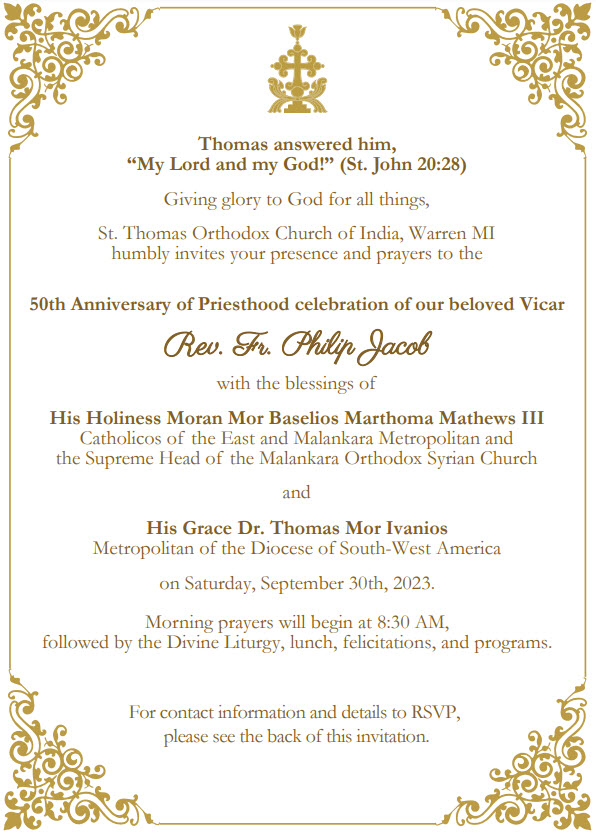 Charity
To honor and celebrate Rev. Fr. Philip Jacob's 50 years of priesthood, multiple projects will be organized in North America and Achen's hometown in Mavelikara, India to reflefct Achen's call to service and dedication to serve the needy.
April – Focus – John Paul Center
May – MMVS – Forgotten Harvest
June – Donation to Chairty (TBD)
July – India Project includes permanent scholarship for a student
         – Meals for a day at orphanages and other centers
August – Collection Kit Project
September – TBD
Souvenir
Under the leadership of Rev. Fr. Philip Jacob, our Church has been involved in numerous community and charity events, locally and in India, for many years. Over the past 49 years of his priesthood, he has mentored and spiritually influenced many lives.
This September will mark Rev. Fr. Philip Jacob's 50th year of Priesthood. As part of this auspicious and blessed occasion, the Church members have decided to publish a Souvenir, a meaningful keepsake book, a memoir for him and the community in his honor.
All proceeds from the souvenir will be used to carry out various charity events as part of the 50th year of his Priesthood. Giving back to the community and supporting those in need has been his life's mission, along with providing spiritual guidance. We kindly request your generous donations or sponsorship to make this initiative success.